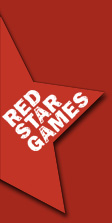 Red Star Games - HQ





Welcome to Red Star Games, home of revolutionary games design by the people for the people. Red Star Games is of course the front organisation of internationally renowned Games Designer and reviled villain Andy Chambers (with design credits on over thirty games, books and supplements to his name - see Retrospektiv for details).




"We make a living by what we get. We make a life by what we give." - Sir Winston Leonard Spenser Churchill (1874-1965), British statesman, prime minister, author



Overview

Andy set up Red Star Games in April 2004 after fourteen years working as lead designer for Games Workshop, undoubtedly the most successful fantasy and science fiction miniature games company in the world.

Red Star Games is here to provide a talented, reliable resource for freelance and consultative games design to anyone with enough money and a cool idea they want made a reality (note that both things are normally pre-requisites, although money alone can work just fine). We are but reaving privateers on the high seas of international games design.

As of April 2006, Andy Chambers is employed by Blizzard Entertainment in the role of Creative Director. This most bodacious of opportunities has now lured him off the high seas and into an office in the heart of corporate America, where he still mutters about capitalism and revolution [but not too loudly].